Yamaha Sport Touring Motorcycles
Industry-leading features like electronic suspension, LED cornering headlights provide the ultimate sport touring experience.
MSRP $17,999*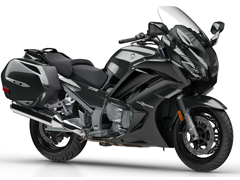 Leading-edge technology provides long distance touring capability with class-leading performance and comfort.
MSRP $16,399*
Fitted with a range of touring equipment, this Leaning Multi-Wheeler brings added long distance functionality and comfort.
MSRP $17,299*
Leaning Multi-Wheel technology delivers a high feeling of stability when cornering on various road surfaces.
MSRP $15,999*
Enhanced long distance features like integrated side bags, heated grips and cruise control make it a full featured performance tourer.
MSRP $12,999*
Adaptable performance, good value and a long list of sport touring features makes this bike the perfect ride partner.
MSRP $10,699*
LMW (Leaning Multi-Wheeler)